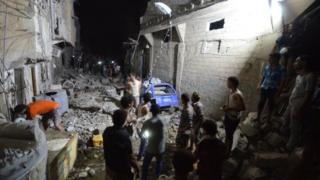 At least 19 civilians have been killed in a Saudi-led coalition air strike in the Yemeni port city of Hudaydah, local officials and medics say.
The raid late on Wednesday reportedly targeted a presidential palace used by the Houthi rebel movement, but missiles also hit neighbouring houses.
Residents described the scene in the al-Hunoud district as carnage.
The coalition, which wants to restore Yemen's internationally-recognised government, has not yet commented.
Coalition officials say it only targets military facilities, but it has been accused of hitting schools, hospitals, markets and homes since intervening in the conflict in Yemen 18 months ago.
The rebel-controlled Saba news agency reported that several homes were destroyed in Wednesday's attack in Hudaydah.
It cited medics as saying there were 98 casualties, including women and children.
"The scene was awful. Body parts were mixed up with the remains of the house and blood filled the place," one resident told Reuters news agency.
A government official told AFP news agency that the residential area was "probably hit in error".
The UN says more than 6,700 people have been killed since the coalition launched a military campaign in support of President Abdrabbuh Mansour Hadi in March 2015, three months after the rebels took full control of the capital, Sanaa.
The conflict has also pushed the Arab world's poorest country to the brink of famine and left 80% of the population in need of humanitarian assistance.
The UN estimates that 96,600 children under the age of five are at risk of severe malnutrition in Hudaydah and its surrounding province alone.
A land and sea blockade imposed by the coalition has seen fishing decline by 75% in Hudaydah, and food prices have risen by 60%.