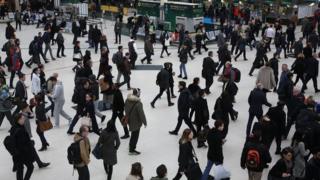 Wages rose at an annual rate of 2.9% in the three months to March, faster than inflation for the first time in more than a year, official figures show.
Over the same three-month period, the inflation rate was 2.7%.
Inflation started to overtake wages in February last year, squeezing incomes.
The Office for National Statistics (ONS) also said unemployment fell by 46,000 to 1.42 million, with the jobless rate falling to 4.2% the lowest since 1975.
The number of people in work increased by 197,000 in the January-to-March period to 32.3 million, the highest total since records began in 1971.
Senior ONS statistician Matt Hughes said: "With employment up again in the three months to March, the rate has hit a new record, with unemployment remaining at its lowest rate since 1975.
"The growth in employment is still being driven by UK nationals, with a slight drop over the past year in the number of foreign workers. It's important to remember, though, that this isn't a measure of migration."