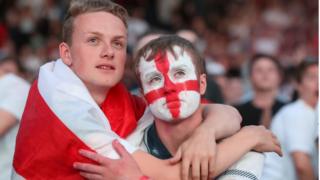 Heartbroken England fans have been left to rue what might have been after their World Cup semi-final defeat to Croatia.
Hopes of a first final since 1966 were dashed on Wednesday after England slipped to a 2-1 loss after extra time.
Emergency services across the nation had another busy night, particularly after the match finished.
West Midlands Ambulance Service said it faced "a barrage of 999 calls" after full-time, including reports of assaults and domestic violence.
England beaten by Croatia in semi-final
'You gave us something to believe in'
'The difference was, everyone was happy'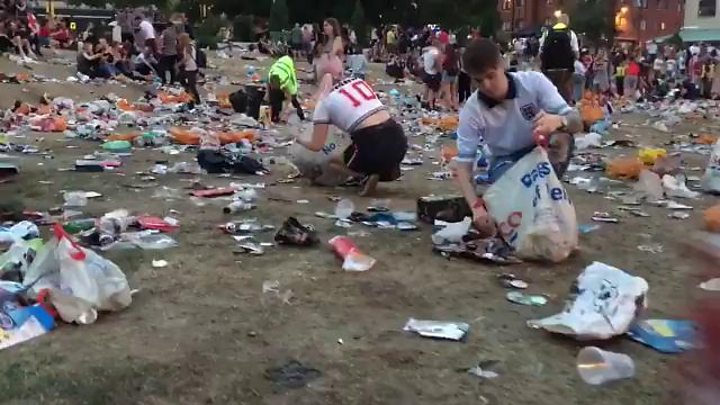 Police in Ipswich praised the "vast majority of the well behaved crowd" that watched the match at Portman Road but criticised the fact a flare was thrown after Kieran Trippier opened the scoring.
However, supporters in Sheffield showed a touch of class by helping to tidy up, despite the pain of England's defeat.
Grant Davidson said the side had "brought the country together" during the run to the semi-finals, the first time England had reached the last four since losing to West Germany in 1990.
Thousands of fans gathered at major outdoor screenings for the knockout games as World Cup fever gripped the nation.
Despite Trippier giving England an early lead, Croatia clawed their way back into the game and edged past Southgate's side after extra time.
In the aftermath of the defeat, supporters have moved to thank the team for restoring pride.
Stephen Fry was among those to take to Twitter after the match, and his message reflected the thoughts of many.
Fans already appear to be looking to the future, with a spike in searches for Euro 2020 and the 2022 World Cup after the final whistle.
Supporters are starting to imagine what Southgate's young side might achieve…
Three Lions had been the soundtrack to the summer, with supporters optimistically rejoicing in the chorus of "It's Coming Home".
Comedian David Baddiel, who recorded the track alongside Frank Skinner and the Lightning Seeds, was clearly disappointed after England's exit…
Former players and staff have also posted a series of positive messages after England's run came to an end.
Scenes after the game were, perhaps unsurprisingly, more subdued than after the quarter-final win against Sweden.
However, one fan in Shoreditch, east London, was seen climbing a lamppost, while Avon and Somerset Constabulary said it had arrested a man for assaulting an officer and punching a police horse.
In Birmingham city centre, 16 people jumped into the canal, while a man was spotted "surfing" on top of a moving car in Solihull, according to West Midlands Ambulance Service.