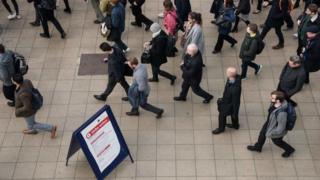 Wage growth beat market and economist expectations in the three months to April.
Pay rose by 3.4% compared with a year ago. After taking inflation into account, wage growth was 1.4%, official figures show.
The unemployment rate remained at 3.8%, and has not been lower since the October to December 1974 period, the Office for National Statistics said.
The employment rate for women was 72%, the highest on record.
More good news from the labour market – but there are signs that employment growth might be starting to tail off in the latest ONS figures.
There were 32,000 more people in work in the three months to April, compared with the previous three months, the smallest increase since last August.
The employment rate was its joint highest on record at 76.1%, while the unemployment rate as expected, remained at 3.8%.
Over the last year, employment has increased by 357,000, due entirely to an increase in full-time jobs.
Economists reckon the resilience of jobs growth may be explained by companies being more inclined to hire workers in uncertain times rather than commit to investment.
Earnings growth beat the market's expectations, by ticking up to 3.4% in the three months to April compared with the same period a year ago, excluding bonuses. This was driven by faster growth in basic pay in construction and financial services. The likes of hospitality tailed behind when it came to pay growth despite a hike in the minimum wage in April.
Strip out inflation, and average pay remains below the pre-crisis peak, according to the ONS measure.
But with whole economy wages growth (ex-bonuses) in April alone rising to 3.8%, these figures are likely to make the Bank of England, which scrutinises these figures closely, more inclined to raise rates.
In May, Mark Carney told us rates may have to rise more quickly, and further, than the one or so increase per year the markets are expecting.
However, the expectation is that this won't start until there is more clarity over the path of Brexit.