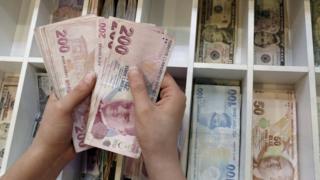 Turkey's central bank said it was ready to take "all necessary measures" to ensure financial stability after the collapse of the lira.
It has vowed to provide banks with "all the liquidity the banks need".
The measures come after the Turkish lira hit record lows against the dollar amid a widening diplomatic spat with the United States.
Stock markets in Asia fell on Monday as investor concern over Turkey's currency crisis mounted.
The slide worsened on Friday, when US President Donald Trump approved the doubling of tariffs on Turkish steel and aluminium – following Turkey's refusal to free an American pastor who has been in detention in Turkey for nearly two years.
Turkey's President Recep Tayyip Erdogan has vowed not to allow Turkey to be "brought to its knees" and has spoken of a plot against the country.
What is happening on the markets?
Before the new measures were announced, Japan's Nikkei 225 had fallen almost 2% in late trading.
Experts have blamed the sharp slide in the lira on fears the country is descending into an economic crisis.
Hong Kong's Hang Seng index was down almost 1.6% in afternoon trade, while the Shanghai Composite fell 1.7%.
In Australia, the benchmark S&P/ASX 200 index had lost 0.5%, while South Korea's Kospi index was down 1.8%.
Investors globally are worried about the damage spreading and have been prompted to sell riskier assets – including Asian stocks and emerging market currencies.
Analysts said investors were now looking for safe havens in the form of the yen as well as the US dollar.
What is the cause of the lira slide?
Experts have blamed the drop in the lira on fears that Turkey may be falling into an economic crisis.
The Turkish stock market has also fallen 17%, while government borrowing costs have risen to 18% a year. Meanwhile, inflation has hit 15%.
Investors are worried that Turkish companies that borrowed heavily to profit from a construction boom may struggle to repay loans in dollars and euros, as the weakened lira means there is now more to pay back.
Why are Turkey and the US at odds?
The dispute centres on Turkey's refusal to release American pastor Andrew Brunson.
Mr Brunson has been detained for nearly two years, accused of links to the outlawed Kurdistan Workers Party and the Gulenist movement, which Turkey blames for a failed coup in 2016.
The Turkish president is angry that the US has not taken more action against the Gulenist movement and what he said was a failure "to unequivocally condemn" the 2016 coup attempt. The US has refused to extradite Fethullah Gulen, who lives in Pennsylvania.
US support for Kurdish rebel groups fighting Islamic State fighters in northern Syria. is another major difficulty, given Turkey's battle against a Kurdish insurgency in its own country.
Mr Erdogan has also been getting closer to Russia – creating an awkward triangle, given that Turkey is a Nato member, Russia is Nato's number one threat and the organisation is obliged to defend any member that is attacked.
Nato uses the Incirlik Air Base in Turkey to fight against IS and there has been some domestic pressure on Mr Erdogan to close it.
What are Turkish officials doing about it?
The Turkish Central Bank announced on Monday that banks would be given all the liquidity they needed.
Discount rates for collaterals against Turkish lira transactions would also be provided.
But the bank did not increase interest rates which would help contain inflation whilst supporting the lira.
It is not clear if this comes after Mr Erdogan's pressure – the president is famously averse to interest rate rises.
He has dismissed the fall of the currency as "a storm in a tea cup" and urged Turks to sell dollars and buy lira to help boost the currency.
Why is there so much fear this will spread?
Investors are worried that Turkish companies could struggle to repay loans in dollars and euros – a debt pile that only grows as the lira falls.
Over a third of Turkish banks' lending is in foreign currencies, according to Reuters.
Worries that the falls in value would spread were recently underlined by a report in the Financial Times saying that the European Central Bank is concerned about the exposure of eurozone banks to Turkey. In particular, the report flags that Spain's BBVA, Italy's UniCredit and France's BNP Paribas, all of which have significant operations in Turkey, are especially exposed.
Eight years ago, concerns about contagion during the eurozone debt crisis saw investors push up the borrowing costs of highly indebted eurozone countries, exacerbating their debt problems.