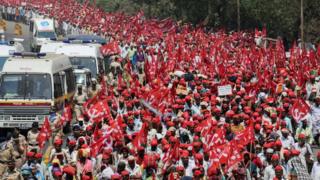 Tens of thousands of Indian farmers have converged in Mumbai, after walking 167km (103 miles) from Nashik district to demand loan waivers and better prices for their produce.
The group, which includes children, women and elderly, says the government has not implemented the loan waivers it promised them last year.
The Maharashtra state government says it is open to talks to end the protest.
Farmers say the state has seen rapid growth but they have been left out.
The crowd of farmers walked six days from Nashik and arrived in Azad Maidan – a ground that's frequently used for protests and concerts – in Mumbai in the early hours of Monday.
The protest is being led by a national farmer's organisation that is affiliated to the Communist Party of India (Marxist).
Why are they protesting?
Apart from the loan waivers, farmers say they want to be paid at least one-and-a-half times the cost of their crops. The government sets prices for farming in India and procures crops from farmers to incentivise production and ensure income support.
The protesters also want tribal farmers, who mainly cultivate in forests, to be allowed to own land.
They are planning to camp in the grounds until the government agrees to meet their demands.
Farmer leader Vijay Javandhia told BBC Marathi that "agricultural income has swiftly declined in the country".
"Income in cotton, grains and pulses is declining day by day. That's why the rural economy is gradually running out of money," he said.
Sakhubai, a 65-year-old woman farmer from Nashik, said "we need our land and this is our prime demand".
"I have injured my feet due to excessive walking, but I will continue to protest until our demands are met," she said.
Dharmraj Shinde, one of the organisers of the march, said "we are fighting for our land".
"The government should give us ownership of land because it's our right as tribal people," he said.
Senior journalist P Sainath, who has covered farming issues for decades, told BBC Marathi that the government must listen.
"Consider how difficult it is for tribals who are fighting for forest land rights, consider how difficult it is for extremely poor women who are around 60 or 70 years to march from Nashik to Mumbai in such a hot climate," he said.
"And they are away from their work for five days."
---
'We want what we were promised' – Subhash Kalu Gangode
We are here to protest against the unfair policies adopted by the state government of Maharashtra with respect to farmers.
I had borrowed 40,000 rupees ($615; £444) under a "crop loan" (loans for farmers to buy fertilisers, seeds and other materials required for farming).
The state government announced in June 2017 that it was waiving loans to help farmers in debt. I completed all the paperwork that was required to get the waiver.
But it is yet to come into effect. I have checked with the bank several times.
I know I am eligible because the waiver applied to all loans up to 150,000 rupees.
Read more personal stories here
---
What are the issues Indian farmers face?
For decades now, farming in India has been blighted by drought, a depleting water table, declining productivity and lack of modernisation.
Half of India's population works in farms, but farming contributes only 15% to the country's GDP. Put simply, farms employ a lot of people but produce too little.
Crop failures also trigger farm suicides with alarming frequency.
Indian farmers also struggle with surplus harvests because the country lacks adequate food storage and processing capacity.