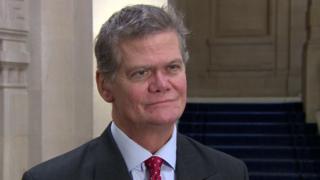 Lib Dem MP Stephen Lloyd has quit the party's group in Parliament so he can vote for Theresa May's Brexit deal.
The MP for Eastbourne says he remains a member of the party, but wants to keep his promise to voters to respect the result of the referendum.
"I have decided that the only honourable thing for me to do is resign the party whip in Parliament," he said.
His departure reduces the number of Lib Dems MPs to 11. The party opposes Brexit and backs a further referendum.
The party's position is that they will vote against the Brexit deal Theresa May has negotiated with the EU, when MPs vote on it next Tuesday.
In a statement Mr Lloyd said: "I have come to the conclusion that I cannot honestly uphold the commitment I made… to accept the result of the referendum, vote for the deal the prime minister brought back from the EU and not back calls for a second referendum – whilst supporting the Lib Dem parliamentary party's formal position of voting against Theresa May's deal and advocating a 'People's Vote'.
"Although I have resigned the Whip, I continue to be a member of the Liberal Democrats, have nothing but respect and affection for the Party Leader, Sir Vince Cable MP, my Parliamentary colleagues and the Lib Dems.
"I will not cease fighting hard for liberal values, both locally and nationally. Locally, I will continue to work hand in hand with our excellent Liberal Democrat council, ensuring the best for our town and campaigning for us to retain control at the local elections next May."
A Liberal Democrat statement said: "We respect what we know was a difficult decision for Stephen ahead of next week's vote and are sorry to see him go. Liberal Democrats are clear that we will be voting against Theresa May's deal.
"The Liberal Democrats have campaigned for an exit from Brexit and a people's vote where people can choose to remain in the European Union… we will continue to fight for this in Parliament."