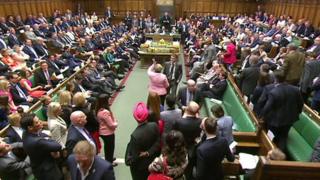 SNP MPs have walked out en masse from Prime Minister's Questions after their Westminster leader was thrown out of the chamber in a row with the Speaker.
Ian Blackford refused to sit down when ordered to by John Bercow having asked for the Commons to sit in private.
This was in protest at the government's handling of debate and votes on the EU Withdrawal Bill.
And it brought PMQs to a temporary halt as the Speaker consulted his officials on what to do next.
Mr Bercow said MPs could vote on his request for a private sitting at the end of PMQs – but when Mr Blackford refused to sit back down he was expelled, with his fellow SNP members following him out of the chamber.
How it unfolded
What happened?
BBC Parliamentary correspondent Mark D'Arcy
Well well!
High drama as the SNP Leader Ian Blackford seeks revenge for yesterday's manoeuvrings, which limited debate on devolution amendments to the EU (Withdrawal) Bill to 20 minutes. He sought to move that the House do sit in private, a motion which is normally voted on immediately.
It would have broken up PMQs, and the Speaker said he would not take the vote until afterwards. Mr Blackford kept up his protests and was eventually ordered out – to be followed by his entire contingent of MPs.
They didn't go far, because moments later he was giving an interview to the BBC in Central Lobby, a few yards outside the Chamber.
There is no doubt the SNP are very angry about what happened yesterday – and they have never been shy of staging a bit of performance art to highlight what they see as the corrupt, archaic ways of Westminster.
I suspect this is Act 1, and more drama lies ahead.