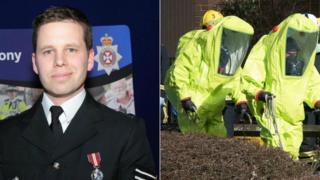 The officer injured in the nerve agent attack has been named by police as Detective Sergeant Nick Bailey.
The officer, 38, who was in intensive care following the incident, is now "stable and conscious", Wiltshire's chief constable Keir Pritchard said.
Ex-Russian spy Sergei Skripal and his daughter, Yulia, are still critically ill after being found collapsed on a bench in Salisbury on Sunday.
Twenty-one people have been been treated in hospital after the incident.
Mr Pritchard said Det Sgt Bailey was sitting up and talking.
"I very much hope Nick will be on his feet back at work very soon," he told the BBC. "We desperately miss him.
"He's a great character. He's a huge presence in Wiltshire Police, well-liked, well-loved, a massively dedicated officer.
"He's not the Nick that I know, but of course he's receiving a high level of treatment."
A total of 21 people, including officers and staff, had been treated in hospital in the aftermath, he said.
Only Mr Skripal, Ms Skripal and Det Sgt Bailey remain in hospital.
Counter-terrorism officers are working to find the origin of the nerve agent.
Earlier, Home Secretary Amber Rudd said the attempted murder of Mr Skripal and his daughter was a "brazen and reckless" act.
She refused to speculate on whether the Russian state might have been involved in the attack, saying the police investigation should be based on "facts, not rumour".
Russia has denied it was involved.
Meanwhile, a doctor who was one of the first people on the scene has described how she found Ms Skripal slumped unconscious on a bench, vomiting and fitting. She had also lost control of her bodily functions.
Analysis
By Gordon Corera, BBC security correspondent
The fact the nerve agent is "very rare" will help the investigation narrow its focus.
Making nerve agents and delivering them requires considerable infrastructure and the more unusual the agent the easier it will be to locate which country, even which laboratory, might be involved.
That combined with police leads on who delivered the agent will form the basis for a determination of responsibility, along with any other intelligence that can be gathered.
It may take days – even weeks – for the government to be confident enough to make a public statement, because it will not want to risk getting any details wrong.
But if suspicions about Russia are confirmed, then some kind of action seems inevitable.
The legacy of the 2006 Litvinenko case shows that expelling diplomats alone may not be regarded as much of a deterrent to future acts.
Economic sanctions on the Russian elite may have more bite, but would require greater political will.
The doctor, who asked not to be named, told the BBC she moved Ms Skripal into the recovery position and opened her airway, as others tended to her father.
She said she treated her for almost 30 minutes, saying there was no sign of any chemical agent on Ms Skripal's face or body.
The doctor said she had been worried she would be affected by the nerve agent, but added that she "feels fine".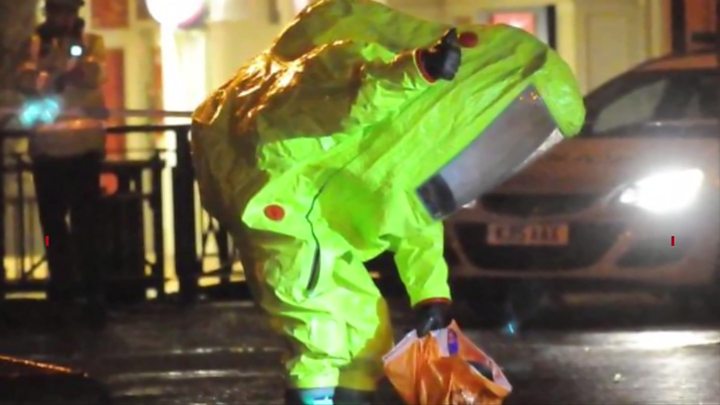 Mr Skripal, 66, was convicted of passing secrets to MI6 but was given refuge in the UK in 2010 as part of a "spy swap".
It is known that he and his 33-year-old daughter had visited the Mill pub and Zizzi restaurant in Salisbury on Sunday afternoon, before they were found collapsed on a bench near the Maltings shopping centre.