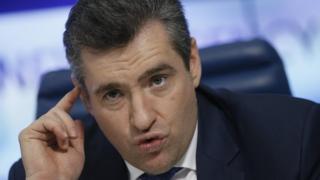 Influential Russian lawmaker Leonid Slutsky has apologised to women he has "wittingly or unwittingly" caused distress.
This comes after three Russian female journalists publicly accused him of sexual harassment.
Mr Slutsky denies the accusations and has threatened to take the women to court for defamation. In his apology, he did not mention anyone by name.
Russia does not have laws that cover sexual harassment specifically.
The country has not had the same backlash against sexual harassment as seen in the US and Western Europe in the wake of high-profile scandals.
What did Mr Slutsky say?
He posted on Facebook (in Russian) to mark International Women's Day.
"I would like to use this opportunity to apologise to those of you whom I have caused distress – wittingly or unwittingly," Mr Slutsky wrote.
"Trust me, I meant no harm."
Mr Slutsky, 50, heads the influential committee on international affairs in the State Duma (the lower chamber of parliament). He is a senior member of the Liberal Democratic party.
What are the allegations against him?
Three female journalists have publicly accused the MP of sexual harassment.
BBC Russian Service's Farida Rustamova is one of them.
She has an audio recording of the incident, which took place on 24 March 2017 last year. The BBC has the recording in its possession but has decided not to publish it.
Ms Rustamova went to Mr Slutsky's parliamentary office to get a comment about the then French presidential candidate Marine Le Pen's visit to Russia.
During the conversation, Mr Slutsky unexpectedly changed the subject and asked if she would like to leave the BBC to work for him.
After she refused, he complained that she wouldn't kiss him and was also heard suggesting that she could be his mistress.
She says he then touched her inappropriately and when she objected he could be heard telling her: "I don't feel people up. Well, OK, just a little. 'Feel people up' is an ugly expression."
The BBC has asked Mr Slutsky to comment on the incident but he has not responded.
Ms Rustamova joins two journalists – TV channel RTVI deputy editor Yekaterina Kotrikadze and TV Rain producer Daria Zhuk – who have both, in the last two weeks, accused Mr Slutsky of sexual impropriety.
Sexual harassment in Russia
The closest Russia has to legislation covering sexual harassment is Article 133 of the Criminal Code on sexual coercion
Victim-blaming is very strong in Russia; even rape victims are often told they "brought it upon themselves"
Awareness is on the rise thanks to social media. In 2016 a campaign around a hashtag that translated as "I am not afraid to tell" spread across Russian Facebook. Women and men of all ages and backgrounds openly wrote about their encounters with sexual violence
Activists are now talking about the need for modern sexual education for teenagers
Lawyers are looking at introducing the idea of consent into the law