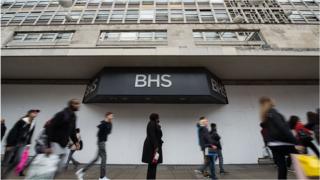 Audit giant PwC and partner Steve Dennison have been fined for signing off the accounts of BHS as a going concern before its sale for £1 in 2015.
Regulator the Financial Reporting Council (FRC) said both had admitted "misconduct".
PwC said there were "serious shortcomings with this audit work".
The collapse of BHS in April 2016 led to the loss of 11,000 jobs and a pension deficit of £571m.
The regulator fined PwC £10m, reduced to £6.5m for early settlement.
Partner Steve Dennison was fined £500,000, reduced to £325,000 for settling early.
Mr Denison will also be struck from a register of auditors and cannot reapply to be reinstated for 15 years, effectively ending his career.
PwC said: "We are sorry that our work fell well below the professional standards expected of us and that we demand of ourselves."
"At its core this is not a failure in our audit methodology, the methodology simply was not followed."
It said that the audit failings "did not contribute to the collapse of BHS over one year later".
PwC added that it had overhauled its monitoring procedures.
Mr Denison left the audit firm this month after nearly 33 years there.
Serial bankrupt
The failure of BHS was the biggest collapse in the British retail industry since the demise of Woolworths in 2008.
It prompted intense scrutiny. Politicians investigated how Sir Philip Green had been able to sell the business, with a large pension deficit, to a company run by Dominic Chappell, a serial bankrupt with no retail experience.
BHS's pension deficit had ballooned to £571m by the time the retailer went into administration in April 2016 – a figure based on what an insurance company would pay if it were to buy out the funds.
Last year, Sir Philip paid £363m to BHS's pension schemes.