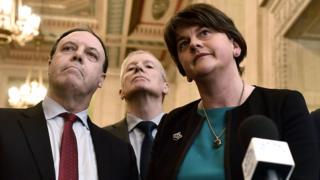 There is "no current prospect" of a deal to restore power-sharing in Northern Ireland, the Democratic Unionist Party (DUP) leader Arlene Foster has said.
The DUP and Sinn Féin have been locked in negotiations in a bid to end the 13-month stalemate at Stormont.
But Mrs Foster said on Wednesday that those talks have been "unsuccessful" and "significant gaps" remain.
"We do not have a fair and balanced package," she added.
She called on the government to set a budget and start making policy decisions.
The DUP would continue to aim for a restoration of devolution, she said, but it would "not accept a one-sided deal".
Northern Ireland has been run by civil servants since the power-sharing executive made up of the DUP and Sinn Féin collapsed in January last year.
The then deputy first minister Martin McGuinness pulled Sinn Féin out of the coalition after a bitter split between the governing parties.
Mrs Foster said on Wednesday that one of the key dividing issues was on the issue of the Irish language.
Sinn Féin has demanded legislation to give the language official status in Northern Ireland.
But Mrs Foster said that stance meant "we have reached an impasse".
"I respect the Irish language and those who speak it but in a shared society this cannot be a one-way street," she added.
"Respect for the unionist and British identity has not been reciprocated.
"In our view, there is no current prospect of these discussions leading to an executive being formed."