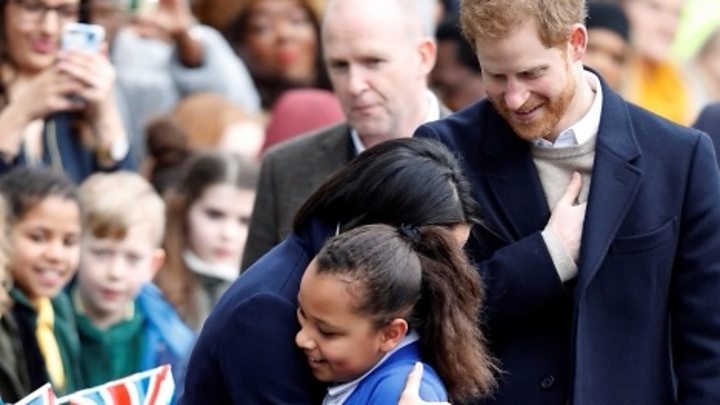 Meghan Markle made a 10-year-old girl's "dream come true" when the Suits actress hugged her.
Prince Harry and Ms Markle were on a royal visit to Birmingham, celebrating International Women's Day.
The engaged couple were at Millennium Point to encourage female students to pursue careers in subjects like science and maths.
Sophie Richards, from Worcester, was hugged by Ms Markle when she told them she too wanted to be an actress.
Before going inside the venue to celebrate the efforts of girls at secondary school who are following a technology and science career path, the prince and his wife-to-be met with the crowds who braved wet and cold conditions.
Sophie, a pupil from Oasis Academy in Worcester, said: "Meghan told me that I can achieve whatever I want to achieve. And Meghan said she would like to see me on TV when I become an actress.
"It was a dream come true. I will never forget this day."
Well-wishers began gathering hours before the prince and his bride-to-be arrived at Millennium Point, which is home to a range of tech-related organisations such as Thinktank and Birmingham Science Museum.
Prince Harry and Ms Markle also met identical twins while on their visit.
Ms Markle joked the only way to tell Elliott and Luke Rainbird, 19, from Solihull in the West Midlands, apart was Luke's fluorescent green trainers.
Looking down, she said: "I can tell the difference between you two – by your shoes."