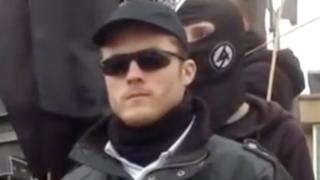 A man accused of being a member of a banned neo-Nazi group called for "traitors" who supported multi-ethnic Britain to be hanged from lampposts, in a video shown to an Old Bailey jury.
In the clip, taken in March 2015, Matthew Hankinson, 24, addressed a crowd in Newcastle upon Tyne.
He is one of six men who deny being in National Action after a ban in 2016.
On Tuesday one of the group admitted planning to murder a Labour MP as part of what he called a "white jihad".
Jack Renshaw, 23, of Skelmersdale, Lancashire, pleaded guilty to preparing an act of terrorism by buying a machete to kill West Lancashire MP Rosie Cooper.
He also admitted making a threat to kill police officer Victoria Henderson.
'Race war'
There is no dispute in the trial that Mr Hankinson, of Newton-le-Willows, Merseyside, is the speaker at the rally which took place more than a year before National Action was banned under terrorism legislation.
He and the five other defendants deny being members of the group after it was outlawed in December 2016.
During the Newcastle event, Mr Hankinson appears wearing dark sunglasses and surrounded by flag bearers, including one man carrying the National Action insignia.
He tells the crowd they need to prepare for a coming race war which was necessary to secure the future of white people.
"If we don't fight and cut out the cancer, Britain will die," he says. "The system will not compromise with us. We need the strongest of our race."
Referring to so-called race traitors who oppose far-right ideology, Mr Hankinson says: "They will end up hanging from lampposts. We must secure the existence of our people and a future for white children.
"Blood must be shed, the blood of traitors. Stand up white men and set our people free."
The jury also watched a video of a demonstration involving National Action in Liverpool which resulted in minor clashes with anti-racism protesters and police in 2016.
Duncan Atkinson QC, prosecuting, told the jury that Jack Renshaw was a masked man seen to be holding a banner, alongside some of the group's founders.
A further video of a Rochdale protest included footage of another of the defendants – Andrew Clarke, 33, of Prescot in Merseyside.
The other accused, who all deny being in the group are: Christopher Lythgoe, 32, and Michal Trubini, 35, both from Warrington; and Garron Helm, 24, from Seaforth, Merseyside.
Mr Lythgoe also denies encouragement to murder by allegedly giving Renshaw permission to kill Labour MP Ms Cooper on behalf of the group.
The case continues.