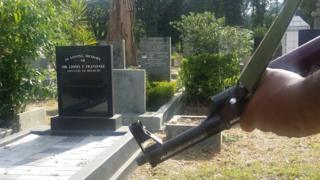 A prominent Sri Lankan newspaper editor killed in 2009 is to be exhumed to aid a new investigation into his murder.
Lasantha Wickrematunge ran the Sunday Leader, which was frequently critical of the government of President Mahinda Rajapaksa, who was in power then.
In January 2009 he had written an editorial saying he believed he would be killed by the government and that an inquiry would come to nothing.
He was killed by unidentified attackers in Colombo three days later.
His death came at a time of intense restrictions on the media in Sri Lanka.
The Sunday Leader had accused the government and the military of rights abuses during their fight against the Tamil Tiger separatist movement.
After his surprise win in elections in 2014, the new president, Maithripala Sirisena, vowed to reform Sri Lanka's treatment of the media and to reopen the investigation into Wickrematunge's murder.
In July, a military intelligence officer became the first person to be arrested in connection with his death.
Then earlier this month, a judge gave permission for his body to be exhumed, because of conflicting reports from initial autopsies. His grave has been under guard since then.
---
Extract from Lasantha Wickrematunge's editorial
It is well known that I was on two occasions brutally assaulted, while on another my house was sprayed with machine-gun fire. Despite the government's sanctimonious assurances, there was never a serious police inquiry into the perpetrators of these attacks, and the attackers were never apprehended.
In all these cases, I have reason to believe the attacks were inspired by the government. When finally I am killed, it will be the government that kills me…
In the wake of my death I know you will make all the usual sanctimonious noises and call upon the police to hold a swift and thorough inquiry. But like all the inquiries you have ordered in the past, nothing will come of this one, too
---