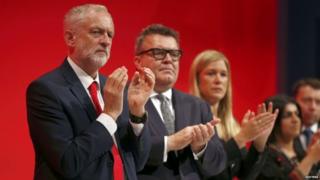 Labour leader Jeremy Corbyn is to call for an end to the "trench warfare" in the party and for it to unite to fight a potentially early general election.
In his close of conference speech, Mr Corbyn will say his party must "rebuild trust" following months of internal strife, and prepare itself for power.
He will also promise extra cash for communities affected by immigration through a new migrant impact fund.
It comes amid signs some MPs are prepared to return to serve under him.
On the eve of Mr Corbyn's leader's speech, his spokesman said a "not insignificant number" of MPs would return to the shadow cabinet next week, including some "surprising names".
It follows Mr Corbyn's overwhelming re-election as leader on Saturday and with the prospect of a deal in the coming weeks to bring back elections to the shadow cabinet.
That has been a key demand for many of the MPs who walked out in the summer, which led to the leadership election.
Senior figures have implored Labour to pull together after the bitter contest and focus its energies on opposing the government, with deputy leader Tom Watson telling the party that "it can't carry on like this".
'Winning power'
Mr Corbyn will say his party has a responsibility to act like a government in waiting, especially given what he says is the growing prospect of Prime Minister Theresa May calling a snap election next year.
"The central task for the whole Labour Party is to rebuild trust and support to win the next general election and form the next government.
"That is the government I am determined to lead, to win power to change Britain for the better.
"But everyone knows that we will only get there if we accept the decision of the member, end the trench warfare and work together to take on the Tories.
"Anything else is a luxury that the millions of people who depend on Labour cannot afford."
'False promises'
In a speech in which he is expected to give his clearest response to date to the UK's decision to leave the EU, Mr Corbyn will announce extra support for communities which have seen high levels of immigration in recent years.
He will say he is committed, if he becomes prime minister, to measures to help relieve some of the pressures on "hard-pressed public services" such as health, housing and education exacerbated by migrant inflows.
In 2010, the coalition government scrapped the migrant impact fund set up a year earlier by its Labour predecessor – although the Conservatives promised at last year's election to introduce a mechanism for dealing with the effects of "high and unexpected volumes of immigration."
Labour will not make "false promises" in relation to Brexit or "fan the flames of fear," Mr Corbyn will say but "instead tackle the real issues of immigration and make the real changes that are needed".
"We will act to end the exploitation of migrant labour to undercut workers pay and conditions," he will add.
"And we will ease the pressure on hard-pressed public services – services that are struggling to absorb Tory austerity cuts, in communities absorbing new populations."
Labour's alternative
Levels of funding will be linked to local authorities' needs, to be paid for in part from money raised from visa applications to enter the UK and a new levy on citizenship application fees.
Mr Corbyn has been under pressure to address the reasons why so many people in Labour heartlands in northern England – areas where UKIP has made gains in recent years – voted for Brexit.
In an interview with the BBC's political editor Laura Kuenssberg on Tuesday, Mr Corbyn acknowledged that in some parts of the country voters have concerns about how fast their communities are changing but said the "crucial" issue was the undercutting of wages and not the numbers of migrants.
Asked if he would introduce tighter controls to reduce immigration levels, he said: "I ask people to think very carefully about that".
In his speech, Mr Corbyn will say the goals of full employment, a publicly-owned NHS, a national education service, action to reduce income inequality and other pledges announced during his leadership campaign will form the basis of Labour's campaigning and its programme in the event of an early general election.
"Together they show the direction of change we are determined to take," he will say.
"The Tory government is taking the country backwards and failing to meet the challenges of our time. Labour is now setting out its alternative."
Responding to Mr Corbyn's comments on immigration, Home Secretary Amber Rudd said: "All this shows is that Jeremy Corbyn wants unlimited immigration – and presides over a Labour Party that is too divided, incompetent and distracted to lead our country.
"While Labour have lurched from one disaster to another this week, we will get on with the job of building a country that works for everyone."