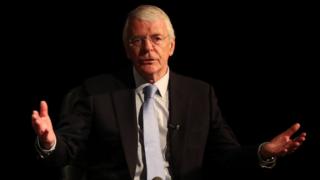 Former Conservative Prime Minister Sir John Major has criticised the government's key welfare reform, saying it could cause the Tories the same problems as the poll tax in the 1980s.
He expressed concern about the speed at which universal credit is being introduced and the levels of funding.
He said voters would think it unfair that people were losing money, which could lead to "deep political trouble".
Theresa May has promised "transitional protections" during rollout.
Speaking during Prime Minister's Questions on Wednesday, she said people "will not see any reduction" and "will be protected".
The poll tax – whose official name was the Community Charge – was supposed to make local council finance fairer and more accountable by getting all adults to have to pay it, rather than charging a tax per property.
However it proved unpopular, with civil disobedience and riots and a rebellion in the Conservative Party which contributed to the fall of Margaret Thatcher as prime minister.
Universal credit is a new benefit for working-age people that consolidates into one monthly payment six separate benefits:
income support
income-based jobseeker's allowance
income-related employment and support allowance
housing benefit
child tax credit
working tax credit
Read more: What is universal credit?
Currently being phased in for different types of claimant across the UK, it is aimed at making the system simpler and more flexible so people who are able to work are rewarded for doing so.
The Conservatives note that the numbers of people in work has been increasing, but universal credit has been criticised for running over budget and causing delays to people's payments.
On Wednesday, another former prime minister, Labour's Gordon Brown, also attacked the scheme, calling for it to be put on hold.
The current Labour leadership has gone further and vowed to scrap it.
Speaking on the BBC's Political Thinking podcast, Sir John – who was PM from 1990 to 1997 – said the theory behind the reform was "impeccable" and "entirely logical" – but he warned against it being introduced "too soon and in the wrong circumstances".
He said people who faced losing out in the short term had to be protected, "or you run into the sort of problems the Conservative Party ran into with the poll tax in the late 1980s".
Sir John, who scrapped the poll tax when he replaced her in Downing Street, said he was not predicting riots as a result of universal credit.
But, referring to reports that millions of households face losing £2,400 a year, he said: "I am saying that if you have people who have that degree of loss, that is not something that the majority of the British population would think of as fair.
"And if people think you have to remove yourself from fairness, then you are in deep political trouble."
Downing Street said no-one moving on to universal credit would lose out and that the nationwide rollout next year would proceed gradually in order to identify difficulties.