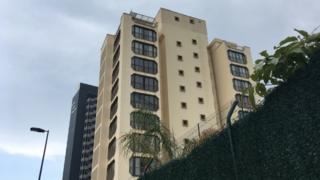 Britons are being warned about taking risks on hotel balconies ahead of the 2018 holiday season.
In the past three months 11 British holidaymakers have been reported as falling from a balcony – with eight of them in their teens or 20s.
Five of those 11 died from their injuries, according to the Association of British Travel Agents.
The Foreign and Commonwealth Office is telling tourists to "avoid doing anything that might cost a life".
Under 30s are the group who've most often been hurt or killed falling from balconies abroad in 2018, following a string of holiday accidents.
The ABTA has warned that risky behaviour on balconies can have "devastating" consequences.
There have been several deaths in 2018 already
Tom Hughes, a 20-year-old from Wrexham, died when he fell 65ft from a balcony in Magaluf in early June.
Natalie Cormack, 19, died in Magaluf in April when she attempted to climb from one balcony to another.
A 22-year-old fell to his death in Majorca in April and a teacher in his 20s died in a fall while on holiday in Dubai in March.
In April this year, Newsbeat joined a group of friends who were looking for answers about their friend's death one year after she fell from a balcony at a hen party in Benidorm.
"When you're asking the police, can you tell me if she is alive? When the answer is 'I'm sorry but no' – everything crumbles around you. It was terrible," Suzanne Lothian, a friend of Kirsty, told Newsbeat.
"She's always in my thoughts," added her friend Carolyn Burke.
"She was hilarious, and most of the time when we speak about her we are laughing about the fun times – but then it is tinged with sadness."
'A moment of carelessness can be devastating'
"We have already seen a number of fatalities and very serious injuries caused by balcony falls this summer," says the Foreign Office's Julia Longbottom.
"Travellers should think about safety risks whilst on holiday. Look out for friends and family and avoid doing anything that might cost a life."
Nikki White from the ABTA adds: "A moment of carelessness can have a devastating impact, not just on the holidaymaker themselves, but also on their family and friends."
Follow Newsbeat on Instagram, Facebook and Twitter.
Listen to Newsbeat live at 12:45 and 17:45 every weekday on BBC Radio 1 and 1Xtra – if you miss us you can listen back here.