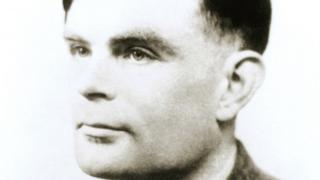 Proposals to introduce new legislation which would pardon gay men convicted under historical gross indecency laws will be brought forward "in due course", the government has said.
The so-called Alan Turing law could see thousands of men pardoned for crimes of which they would be innocent today.
World War Two code-breaker Turing was pardoned in 2013, decades after he was convicted of gross indecency in 1952.
A government spokesman said it was "committed" to the proposal.
"This government is committed to introducing posthumous pardons for people with certain historical sexual offence convictions who would be innocent of any crime now," the spokesman said.
"We will bring forward our proposals in due course."
Homosexuality was decriminalised in England in 1967.
Campaign
Relatives of Turing have led a high-profile campaign to secure pardons for the 49,000 other men convicted under historical indecency laws.
It has also received support from TV presenter Stephen Fry and actor Benedict Cumberbatch, who played Turing in the film The Imitation Game.
The proposal was a commitment in the 2015 Conservative manifesto and has also had backing from the Labour Party.
Turing's work helped accelerate Allied efforts to read German naval messages enciphered with the Enigma machine during World War Two.
He also contributed some more fundamental work on code-breaking that was only released to public scrutiny in April 2012.
The mathematician was given a royal pardon in 2013, nearly 60 years after his death by suicide in 1954.
This followed an official apology by former Prime Minister Gordon Brown in 2009 for how Turing had been treated.
The pardon addressed his 1952 conviction for gross indecency, after which he was chemically castrated.
He had been arrested after having an affair with a 19-year-old man.
The conviction meant he lost his security clearance and had to stop the code-cracking work that had proved vital to the Allies in World War Two.
---
Were you affected by the gross indecency law? Do you know of a friend or family member who was penalised before the law was changed? You can email haveyoursay@bbc.co.uk and please include a telephone number if you are happy to be contacted by a BBC journalist.
You can also contact us in the following ways: