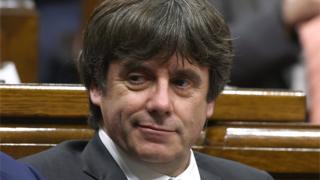 Fugitive Catalan separatist leader Carles Puigdemont has said he is ending his bid to be reappointed president of Spain's north-eastern region.
He said he was stepping aside in favour of detained activist Jordi Sanchez.
Mr Puigdemont is in self-imposed exile in Belgium and has been told by Spain he faces arrest if he returns to Barcelona to be sworn in.
This followed Catalonia's independence referendum last October, which the government in Madrid declared illegal.