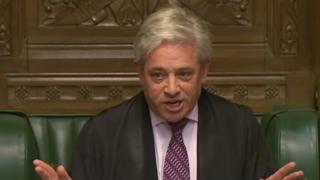 Allegations of bullying in parliament are set to be raised in the Commons.
An investigation by the BBC's Newsnight uncovered complaints about a number of MPs, including Speaker John Bercow, allegations which he denies.
Green Party co-leader Caroline Lucas will ask an urgent question in parliament calling for staff to get the "best possible protection".
The urgent question was granted to Ms Lucas by Mr Bercow as part of his job as speaker.
She will ask the Leader of the House, Andrea Leadsom, for a statement on the treatment of Commons staff – known as "clerks" – and is expected to call for them to be included in any new procedures to tackle harassment and bullying in Westminster.
Ms Lucas said: "People working in parliament should be able to work without fear of intimidation or bullying and today I'm calling for every member of staff to be given the best possible protection."
In an interview for the BBC's Beyond 100 Days programme to be broadcast later on Monday, Mrs Leadsom said the fact MPs were being accused of bullying by Commons staff was "incredibly disappointing".
"Everyone will have been shocked to hear those allegations against a number of different MPs," she said.
"The important thing is that people have to be feel supported, able to work free of harassment and bullying when they come into Parliament every day."
And Labour's Jess Phillips has called for MPs who are found to have mistreated their staff to be stripped of their staffing allowances in future.
"We must be more honest about our own failings and seek to change them, not with tar and feathers for anyone who is caught out but with real action to stop a system designed to create entitlement," she told Huffington Post.