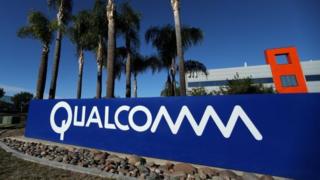 President Donald Trump has blocked Singapore-based Broadcom's proposed $140bn (£100bn) takeover of rival US chipmaker Qualcomm on grounds of national security.
His order cited "credible evidence" that a takeover "threatens to impair the national security of the US".
Qualcomm was already trying to fend off Broadcom's bid.
The deal would have created the world's third-largest chipmaker behind Intel and Samsung.
It would also have been the biggest takeover the technology sector had ever seen.
The presidential order said: "The proposed takeover of Qualcomm by the Purchaser (Broadcom) is prohibited, and any substantially equivalent merger, acquisition, or takeover, whether effected directly or indirectly, is also prohibited."
Crown jewel
Some analysts said President Trump's decision was more about competitiveness and winning the race for 5G technology, than security concerns.
The sector is in a race to develop chips for the latest 5G wireless technology, and Qualcomm was considered by Broadcom a significant asset in its bid to gain market share.
"Given the current political climate in the US and other regions around the world, everyone is taking a more conservative view on mergers and acquisitions and protecting their own domains," IDC's Mario Morales, vice president of enabling technologies and semiconductors told the BBC.
"We are all at the start of a race, and you have 5G as a crown jewel that everyone wants to participate in – and every region is racing towards that," he said.
"We don't want to hinder someone like Qualcomm so that they can't provide the technology to the vendors that are competing within that space."
Singapore-based Broadcom had been pursuing San Diego-based Qualcomm for about four months.
Last week however, Broadcom's hostile takeover bid was put under investigation by the Committee on Foreign Investment in the US, a multi-agency led by the US Treasury Department.
The US company had rejected approaches from its rival on the grounds that the offer undervalued the business, and also that any takeover would face antitrust hurdles.
Earlier this year, Chinese telecoms giant Huawei said it had not been able to strike a deal to sell its new smartphone via a US carrier, widely believed to be AT&T.
The US also recently blocked the $1.2bn sale of money transfer firm Moneygram to China's Ant Financial, the digital payments arm of Alibaba.