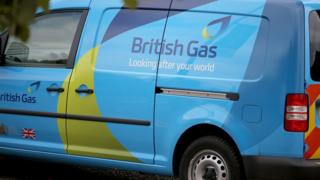 British Gas owner Centrica lost 110,000 energy supply accounts in the first four months of the year.
That is roughly equivalent to 70,000 customers as many households buy their gas and electricity from British Gas, so will have two accounts.
Last year, the company lost 1.3 million energy accounts.
Centrica said there had been "high levels of competitive intensity", but said the rate at which it has been losing customers had been slowing.
The company has almost 13 million energy supply accounts in the UK.
In April, British Gas announced a 5.5% increase in both gas and electricity bills, which comes into effect at the end of the this month.
It blamed the rising wholesale cost of energy and the cost of meeting emissions targets and introducing smart meters.
Energy switching
Other big energy firms have also announced price increases this year, including Npower, EDF and Scottish Power.
Rising energy prices have spurred record numbers of customers to switch suppliers.
In the first three months of the year, 1.3 million customers switched energy supplier – a record quarter, according to Energy UK.
In February, Centrica announced 4,000 job cuts, blaming intense competition and the introduction of an energy price cap.
About 12 million households are on some form of uncapped default tariff, which can cost hundreds of pounds a year more than the cheapest deals.
The government wants to cap those tariffs and legislation to do that is currently working its way through Parliament.