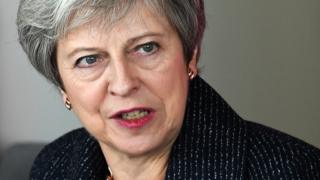 The prime minister would "never agree" to a permanent customs union with the EU, amid concern from ministers abut Brexit compromises, No 10 says.
They are thought to fear that Theresa May will agree to such a move, if a trade deal cannot be done in time.
Downing Street insists any post-Brexit customs union would be "time limited".
EU leaders meet next week for what has been described by European Council president Donald Tusk as a "moment of truth for Brexit negotiations".
The EU leaders are not expected to reach agreement with the UK but they say they want to see if "decisive progress" has been made to convene a special summit in November, to finalise a deal.
Meanwhile, it has emerged that a motorway in Kent is being shut overnight as part of contingency preparations in case the Brexit negotiations ultimately fail and the UK leaves the EU in March 2019 without a deal.
And Northern Ireland's DUP, which supports Theresa May's government in key Commons votes, has warned it could vote against her Budget next month, if Brexit negotiations result in trade barriers between Great Britain and Northern Ireland.
The UK is due to leave both the customs union and the single market when it leaves the EU in March 2019.
Trying to resolve what should happen on the border between Northern Ireland and the Republic of Ireland – an EU member – has been a key sticking point in Brexit negotiations.
The UK and the EU both want to avoid a "hard border" – physical checks or infrastructure – should a long-term trade deal not be concluded before temporary post-Brexit arrangements designed to give businesses time to adjust come to an end in December 2020.
Brussels has suggested that, if that happens, Northern Ireland should stay in the EU customs union – something the UK says is unacceptable as it would effectively create a border between Northern Ireland and the rest of the UK, down the Irish Sea.
In June the UK government brought forward its proposal for a "temporary customs arrangement" between the EU and the UK as a whole, which would eliminate the need for tariffs, quotas, rules of origin and customs processes on UK-EU trade.
That included the line that the "UK expects the future arrangement to be in place by the end of December 2021 at the latest", which followed a cabinet row.
BBC political editor Laura Kuenssberg said it was understood that the EU was now prepared to accept the idea of the whole of the UK remaining in the customs union if a trade deal cannot be done during the so-called "transition period". But it is understood they have not accepted that there should be a time limit on it.
'Ultimate betrayal'
Many Conservative Brexiteers argue an open-ended arrangement is unacceptable.
It is understood that cabinet ministers Liam Fox, Michael Gove, Dominic Raab and Jeremy Hunt expressed concerns about the possibility of such an outcome.
On Friday, a Downing Street spokeswoman said: "The prime minister would never agree to a deal which would trap the UK in a backstop permanently."
She added: "Our position is that this future economic relationship needs to be in place by the end of December 2021 at the latest."
Amid speculation she could resign, Commons Leader Andrea Leadsom told the BBC she was "really looking forward to us getting a good deal for the United Kingdom" and that was "all I am focused on".
Asked about the customs union concerns, she added: "We are at the final stages of a really complicated negotiation and I do think we have to give the prime minister the opportunity to be able to do a good deal for the United Kingdom, something that she is absolutely determined to do."
Conservative backbench Brexiteer Andrea Jenkyns tweeted that remaining in a customs union would be the "ultimate betrayal" of Leave voters.
---
Meanwhile, former Labour prime minister Gordon Brown said on Friday he thought there would be another Brexit referendum "sometime" adding: "It will, in the end, be the only way to sort out the problem."