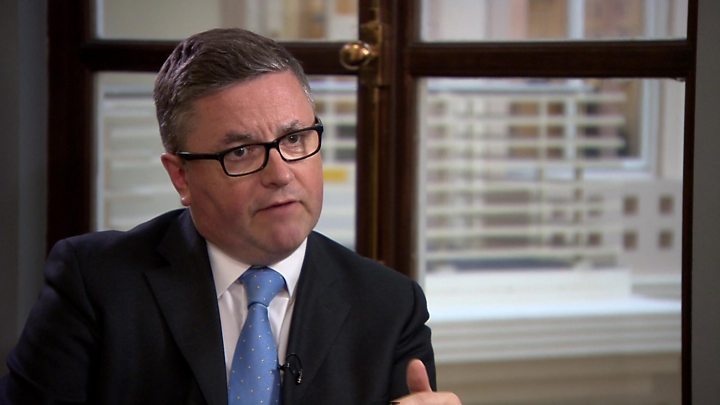 Theresa May must honour "assurances" she's given that Parliament will get a bigger say on any final Brexit deal, pro-EU Tory MPs say.
The government averted a rebellion on the issue after a meeting between the PM and more than a dozen MPs.
One of the potential rebels, Dominic Grieve, warned there would be consequences for the government if not.
BBC political editor Laura Kuenssberg said a government source had told her no actual concessions had been agreed.
A group of MPs said on Tuesday they were offered, in a last-minute concession, real "input" if no deal with the EU was done by December.
But a senior minister, Solicitor General Robert Buckland, raised doubts about what had been offered, saying nothing specific had been agreed.
Details of precisely what this will involve could emerge in the coming days when the EU Withdrawal bill is due to return to the House of Lords.
Remain-supporting Conservative Anna Soubry, one of the MPs who met Mrs May on Tuesday, said she trusted Mrs May to "honour the undertaking she gave".
The UK will leave the EU on 29 March next year.
The government, which has promised MPs a "meaningful vote" on the final deal, avoided defeat on the issue on Tuesday as it overturned a series of amendments to the bill made by peers.
The victory – by 324 votes to 298 – only came after public haggling between ministers and would-be rebels and a meeting between Mrs May and more than a dozen Tory MPs.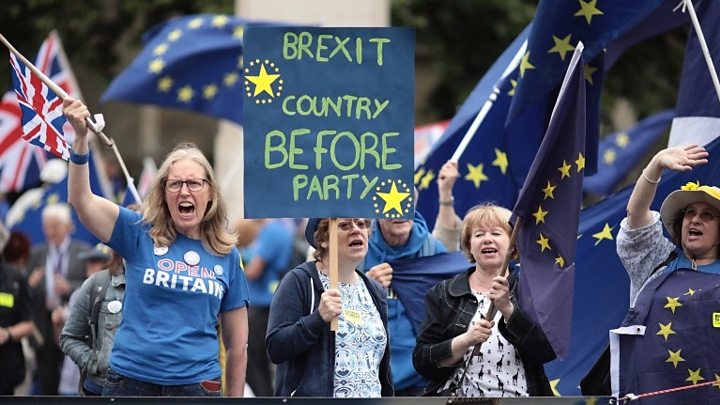 Former Tory cabinet minister Dominic Grieve, who, ahead of the vote, tried to broker a compromise between MPs and ministers, has warned a no-deal scenario could lead to a "national crisis".
In such an event, he said Parliament should be able to flex its muscles by requiring ministers to come forward with a plan of action, which MPs would be able to debate and vote on.
"I expect the government to honour its commitments and I expect the PM to honour her commitments and I have no reason to distrust the approach she took with us," Mr Grieve told the BBC's Newsnight.
"If it were to turn out there was a problem, we will deal with it."
---
Analysis
BBC political editor Laura Kuenssberg
Politics is often about the big picture, but sometimes it is a festival for pedants.
Believe me, in Westminster, there is a very very big difference between the promise of more serious chat about something with the possibility of a change – and a promise actually to do something different, especially if it is made by the occupant of Number 10.
So just hours after the concession, (or non-concession) very, very dark mutterings began from those who had been persuaded by what they thought was a promise.
---
Fellow MP Antoinette Sandbach rejected suggestions by leading Brexiteers in her party that this would tie the prime minister's hands in negotiations.
"What it does is put in place a structure if things do not go as planned," she said.
"I trust the prime minister. It was the prime minister who I sat in front of this afternoon and who gave us those assurances."
But Tory MP Andrew Bridgen, a leading Brexit backer, said the concessions could "come back to haunt" the government if they amounted to a veto over the terms of the UK's departure.
'No inconsistency'
Jacob Rees-Mogg, chair of the influential European Research Group of MPs, urged Mrs May to reject outright Mr Grieve's further call for MPs to effectively take control of negotiations in the last resort if no deal is agreed by February 2019.
He said a concession of this kind would have been "revolutionary" as the Commons cannot override the government when it came to negotiating international treaties.
Asked about what had been promised, Mr Buckland, the solicitor general, said the government remained "open-minded" but he would not "blithely" commit to any changes until he had had those conversations.
"I want to end up having a meaningful discussion so we can move forward positively. There is an expectation that a discussion will yield fruit and I am not saying it won't."
He rejected suggestions ministers were already backtracking on promises made to MPs, insisting he did not want to raise any "false expectations".
"There is no inconsistency here. It is clear we don't just want to have a chat but a proper discussion and negotiation."
Withdrawal debate continues
Tuesday's Commons debate marked the start of the government's attempts to undo most of the changes to its EU Withdrawal Bill that were put forward by the House of Lords.
Prior to the votes, the government suffered its first ministerial resignation over Brexit as Phillip Lee quit the Ministry of Justice so he could speak out freely.
During a five-hour debate, MPs reinstated the precise day the UK will leave the EU – 29 March 2019 – in the proposed legislation while backing an amendment on the Irish border, guaranteeing there will be no new border arrangements without the agreement of the UK and Irish authorities.
A series of further votes will take place on Wednesday, with no defeats expected after ministers agreed compromise wording over post-Brexit plans for a "customs arrangement".