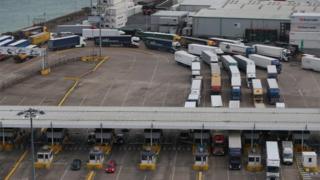 Ministers have warned pro-European Tory MPs not to "refight the referendum" as the government faces a further test of its Brexit authority in the Commons.
MPs are expected to vote later on calls by pro-European Tories for the UK to stay in a customs union if there is no trade agreement by 21 January 2019.
The motion is being backed by Labour, making the risk of defeat more likely.
Trade Secretary Liam Fox said it would send the wrong message and urged MPs to rally round the PM's approach.
The UK is due to leave the EU on 29 March 2019 but has yet to agree how its final relationship with the bloc will work.
The government, which does not have a Commons majority, has been under pressure from MPs on both sides of the Brexit debate.
The government twice survived by just three votes on Monday after a backlash from pro-European Tories who accused the prime minister of "caving in" to the party's Eurosceptic MPs.
Ministers accepted a series of demands from Brexiteers who are unhappy at the PM's Chequers blueprint for future relations with the EU, believing it keeps the UK too closely tied to the bloc.
MPs are continuing to debate Brexit on Tuesday as they consider the government's Trade Bill, which is entering its final parliamentary stage in the Commons.
The legislation would create new structures for dealing with trade disputes after Brexit and carry over up to 40 existing EU trade agreements with other countries that the UK wishes to stick with until new deals are struck.
Call for 'safety net'
Ministers have, so far, comfortably defeated attempts by Labour and the SNP to give the UK Parliament and the Scottish Parliament an effective veto over future trade deals and for agreements to be subject to public consultation before they are ratified.
Attention is focused on a vote, expected before 18:00 BST, in which a handful of Tories are calling for a safeguards in the event of there being no trade agreement with the EU in the run-up to the UK's exit.
They have coalesced around a motion tabled by Tory Stephen Hammond which supports the government's aim of negotiating a free trade area for goods but states if this has not happened by 21 January, ministers must change tack and start discussions on joining a customs union.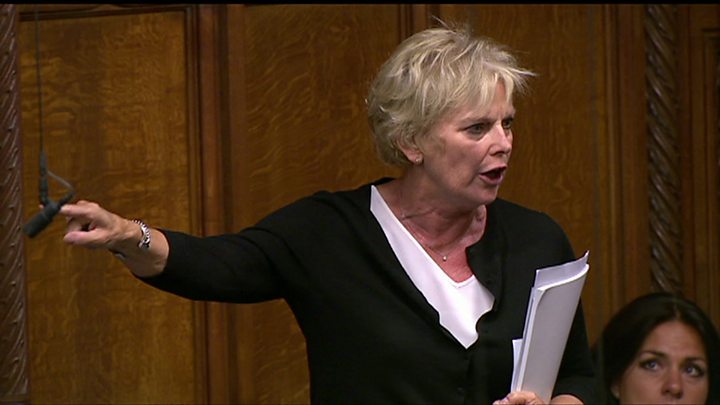 Labour MP Chris Leslie said a "safety net" was needed in the event of there being no deal as being outside a customs union would destabilise trade with countries such as Japan, as well as the EU.
No 10 said Theresa May had been clear that leaving the customs union was necessary to enable trade deals with countries in other continents.
Mr Fox told Radio 4's Today compromises were necessary but any form of customs union was not acceptable and the referendum had given ministers the mandate to negotiate a deal which "reorientated the UK from a EU orbit to a global orbit".
"I do not understand why people thinks this lacks democratic legitimacy," he said of the UK's strategy. "It is very clear where it comes from."
Monday's controversial amendments, he argued, were different as they "did not differ very much" from the government's agreed position.
"As far as I could see the amendment looked like a bit of a cut and paste from the white paper." Asked if the Chequers plan was dead, he replied "I don't think so".
Former education secretary Nicky Morgan, who is backing Tuesday's customs union amendment, said she regretted that some of her colleagues seemed intent on trying "to make life difficult" for Theresa May.
"We just want to give the government space and the mood of the country is just to get on with it," she told BBC News.